On Friday, the New York Times Magazine published an article called "A Father's Search for a Drug for Down Syndrome." The article got to me in different ways than the slate of recent media pieces about the new prenatal testing process. Reading those pieces, I feel a combination of activist energy and nausea. For this one, my response wasn't so clear cut (trust me, in my head a combination of activist energy and nausea is pretty clear cut).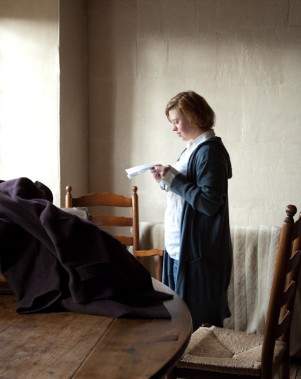 As you know, I'm big on examining representations--this is in large part what my graduate training was about--so the article immediately set of alarms for me in the ways in which it represented not only kids with Down syndrome more broadly, but Tyche Costa herself. For instance, the picture accompanying the article is pretty grim. If you were going to offer a picture of me and Maybelle, you could print one in which we're both staring somberly at the camera, or you could feature one of the 1000 in which we look like we love each other and are having a great time together. Or, you know, a picture like this one on the left from
Richard Bailey
or
Shifting Perspectives
.
Another example of problematic representations: our first descriptive introduction to Tyche Costa has her standing at the wrong car, waiting to be let in.
Confusing! Why is she there? What's wrong with her?
The author Dan Hurley then immediately supplements this introduction with a description of how she looks. She's not described as eager, friendly, curious, or any of the million adjectives I might use to describe a child I just met. No, she has "a round face, broad nose and heavy-lidded eyes." When she speaks, she has "a slurred, high-pitched voice." If someone described Maybelle this way in the
NY Times
, I'd want to kick them in the nads.
But that's not the main idea behind this article, so let me move beyond that critique and into the larger question the article raises: what would it mean to have a drug that improves the brainpower, the cognitive functioning, of people with Down syndrome?
This is a tricky question for me. What I first thought when I read the article was that it was promoting a cure for Down syndrome, and a door slammed shut in my mind. Cure? Absolutely not. Maybelle is fantastic the way she is. She doesn't need to be "cured." It's a shame that society can't broaden its horizons to recognize that her differences contribute to the world we live in. She doesn't need to be made the same as everybody else—whatever that means, because we're not the same.
Then I asked some thoughtful friends—all parents of kids with Down syndrome, some academics, some bloggers, some general activists—what they thought of the article. They offered such interesting responses that they opened up doors in my mind for me. I've asked them if they'd be comfortable with me sharing their responses, and they generously said yes.
So we're going to have a multi-part conversation here about
"A Father's Search for a Drug for Down Syndrome."
Some of the contributors include Cindi May, my colleague and friend who's largely responsible for CofC having
one of the best college programs in the nation
for people with cognitive disabilities;
the often-cited activist Brad
; and
fabulous blogger krlr
--someone I'm committed to meeting in person sometime soon. Biffle might even have something to add! At the end, I'll probably weigh in with my thoughts, with a particular emphasis on the ways in which my friends' comments have helped me to question my questions.
Part one
Part two
Part three
Part four
Part five