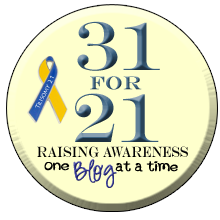 I'm taking part in this year's 31 for 21 once again. October is Down Syndrome Awareness Month, and although I'm quite scornful of all awareness months (ask us how much Women's and Gender Studies does for Women's History Month: nothing! Because we're doing stuff all year!), I do find this blog project to be cool and useful.

So here's a quote from George Estreich's memoir, in response to books that address cloning and genetic mapping and other scientific projects. This quote happens to relate quite beautifully to my research project:

But the people with Down syndrome don't rate a story; they are not given the human reality that is granted to the author, to other scientists, to hypothetical characters facing reproductive decisions, and even to green-skinned, lung-modified descendants leaving an overcrowded planet.

If our technologies are to benefit people with Down syndrome, then their lives need to become more real to us. Science can illuminate one part of that reality, and technology can affect it. But only story can convey it.