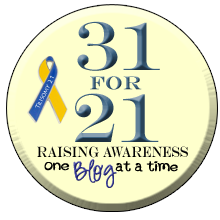 This week I read another memoir written by a parent of a child with Down syndrome.* As is the case with many, many of these memoirs, the first half of the book was a story of a parent struggling with grief and sadness, with loss, with the horrible, horrible bummer of having a child with Down syndrome. I was so disappointed. Haven't I already read that story a billion times? Aren't we tired of that story and ready for a new one? And for goodness sake, can you not start the story with a chapter that's about how great things are now? You know that new parents are picking that book up and thinking, "Oh, no--this is just as bad as I feared!"
At any rate, one of the things that struck me while I was reading is that I didn't have the same year-long struggle that many folks have to adjust to having a child with Down syndrome, and at least one component of why I didn't have to struggle that much is the fact that I was already a feminist when Maybelle came along.
So, reasons why feminism is a good prerequisite for having a child with Down syndrome:
Beauty standards:
I'm already quite skeptical of them. I want Maybelle to have her own, unique beauty, like so many of my students do. I want her to look funky, distinctive--not to fit into the homogenous, stereotypically girlish mode. Please see the picture on the left for an example of Maybelle's awesome looks. I love all the ways that she's visually distinctive.
Activism:
It's not that I want Maybelle's life to have additional challenges, but long before she was born, or even conceived, I knew that she was going to be an ethical person in a fucked up world. What this means is that I'd always envisioned her as an activist, because activism is a necessary component of ethical humanity. So she'll have some easy targets. And we already have tools.
Recognition of social construction:
As you're all well aware, I'm into the social construction of
everything.
Before Maybelle was born I already had a scaffolding in my head of societal oppressions and how they operate. Adding one new concept into this framework--the notion that disability is socially constructed, and that these social constructions can and should be changed--wasn't a paradigm shift. It made perfect sense almost immediately.
What this means is that it was pretty easy for me to see Down syndrome as
embraceable human diversity
,
not
a problem, a flaw, a defect,
not
something to freak out about or want to "solve." It's a component of who Maybelle is, a component that's embraceable. All the bad beliefs and energy about Down syndrome are
socially constructed.
Ready-made community:
Certainly our friends and families were pretty much, "Down syndrome? Whatever--
it's Maybelle!
" But the larger feminist community--my students, for instance--only needed the tiniest bit of coaching (like I did) to see things from a feminist disability studies perspective, and now they're all over it. They see Maybelle and there's not a bit of weirdness.
*
This wasn't George Estreich's The Shape of the Eye, which I'll review here very soon.